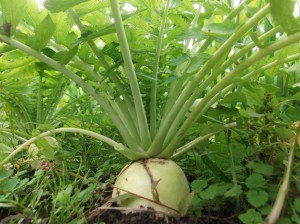 We are a small farm sits in rich natural environment in Kuroda of Ukyo-ku, northern Kyoto city. Our rice and vegetables are grown without pesticides or chemical fertilizers as our philosophy of farming counts on natural eco-cycles.
Foods are the gifts from great nature. What we, as peasants, are doing is just giving a little help for the rice and vegetables to grow full of its energy by themselves.
As well as maintaining healthy soil and a harmonious environment for living things including plants, and also being attentive to the cycle of natural ecosystems going well, we aim to be peasants who can help rice and vegetables to grow full of their lives. That's how we work on our farm every day.

It is very natural that eating delicious and healthy rice and vegetables makes our bodies happy.
And it is not only the humans who eat the foods that benefit. The soil, mountains and rivers which produce the foods will be healthier. Whole ecosystem of nature surrounding us will get healthier. Moreover, when the nature surrounding our farm gets healthier in the upstream of Katsura River, the urban area downstream, will also become healthier.

Foods connect humans to the earth, and our farm to urban areas. By being connected, we believe our society will become healthier and healthier. This is why and how we are tackling soil today and tomorrow.
Join our Satoyama's Share subscription!
What is Satoyama's Share?
We deliver our good harvest directly from our farm to your table.
From baby leaves to blooms, the whole lifecycle of plants will be introduced to your daily meal.
Wild vegetables and herbs, and processed products will also be available.
Eat deliciously, and let's make a better and wholesome picture of our own bodies, natural environment surrounding us, and our future.
Singing Paddy Farm delivers the harvest of our local nature by our Satoyama's Share subscription.
Our local nature is rich, and it gives a lot of gifts to us. Our mission is to deliver delicious and nourishing edibles grown in the full energy of soil and sunlight, directly from our farm to your table.
Nature's sake and its balance nurture our vegetables. We will be very happy if we can hear you saying "it's delicious!" or "they give me energy!".
We are taking an agroecological approach,
which counts on coexisting with the natural ecosystem surrounding us. Pesticides and chemical fertilizers are not used in our farm.
Natural ecosystem is well organized by themselves. Even when part of it gets damaged, it seems to be trying to balance itself as a whole. Pesticides and chemical fertilizers might be effective to ongoing phenomena on the surface, however they tend to ruin the balance of the ecosystem eventually.
We believe even pests and weeds, which are often seen as enemies in modern agriculture, hold important roles in balancing the natural ecosystem. The goal of our farming is to support the ecosystem to go in its own course, and to let the ecosystem feed us in return.
Pesticides and chemicals have negative effects not only on humans who eat the crop and the farmers who use them, but also on the environment where they are used and even on our future generations. Our current social system is making it difficult to stay away from pesticides and chemical fertilizers. It needs to be changed.
Our mission is to help the natural ecosystem maintain its balance and to coordinate it to produce our foods in that balance.
Contents of Satoyama's Share subscription
Twice per month delivery. (Once per month is available)
Harvest may not come on time, depending on weather issues such as heavy rain or typhoons, or the crop's own pace of growth. In those cases, we will notify you to reschedule the deliveries.
Appreciate your understanding that the share depends on our harvest. Sometimes we can share more, or sometimes less.
The subscription fee is 5,000 yen per month. If your delivery address is within our delivery area in Kyoto city, there is no additional fee. Otherwise we will charge shipping fees.
Most of the subscription items are vegetables grown in Singing Paddy Farm, but depending on the season, we may also deliver wild vegetables and herbs, nuts, homemade miso, and processed products using vegetables. The seasonings in processed products are made by dedicated producers which is also our family use.
Rice (brown or white) can be added to the subscription.
During the hot summer months, we use refrigerated methods of delivery to keep the items fresh. In those cases the refrigerated fee will be added to your subscription fee.
Subscriptions and spot orders for rice only are also available. Please contact us for the details.
How to receive Satoyama's Share subscription
You have three options;
Receive by courier service two times per month. (One time per month is also available)
Pickup two times per month at
Sumireya (Sakyo-ku, Kyoto city) http://sumireya.org/
Full size 2,400 yen per each time / Half size 1,200 yen per each time
You can also be our pickup point!
Please call your neighbors, friends, colleagues, and your family and congregate their orders such like "we want ### boxes of ### yen items!". Please contact us for the details including the shipping fee.
Please feel free to reach out to us for any questions.
How to apply for the Satoyama's Share subscription
Please contact us via email or our website.